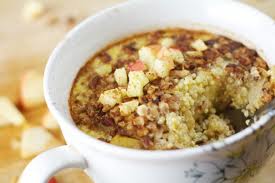 Ingredients:
½ cup quinoa
1 cup water
2 eggs
5 Tablespoons unsweetened applesauce
pinch of salt
¼ teaspoon cinnamon
2 teaspoons chopped pecans
¾ cup apple, chopped
1 teaspoon honey
Directions:
Boil water; then add quinoa, eggs, applesauce, salt and cinnamon to simmer for 10 to 15 minutes. Pour into oven-safe bowl and broil in oven for 7 minutes. Top with pecans, apple and honey. Serve.