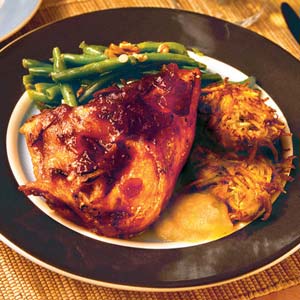 Prep Time:    20 minutes
Cook Time:    20 minutes
Total Time:    40 minutes
With 1.5 lbs chicken, this will make about 5 servings.
Ingredients:
1 to 1.5 lbs boneless skinless chicken, thigh meat preferred
1/4 C minced onion
1 cup dry red wine
1 cup fresh or frozen cranberries
2 Tbs grated fresh ginger
1 bay leaf
1/2 Tbs Chinese Five Spice Powder (if you don't have it, use 1/2 tsp cinnamon and 1/2 tsp allspice)
Stevia to taste
Salt and pepper
1 Tbs butter
1 Tbs olive oil
Preparation:
Heat large skillet on stove. Add oil. Put salt and pepper on chicken.
Brown chicken on both sides.
Remove chicken and cover to keep warm. Pour out excess oil if there's much more than you started with.
Saute' onion for 2-3 minutes.
Add ginger and cook another minute or so.
Add wine and bay leaf. Scrape to dissolve brown bits on pan. Bring mixture to a boil.
Add cranberries. Cook until cranberries are popped, 5 minute or so. Add some Stevia sweetener – start with 1/4 cup sweetening power – the exact amount is going to depend upon the acidity of the other ingredients. Ideally, you'll find a balance where the tartness is relieved just enough to be tasty, but before it goes over into "jammy". If it gets too thick, add some chicken stock or water. Adjust seasonings, adding salt if necessary.
At the end, add one Tbs cold butter – this will thicken it and "round out the corners" taste-wise.
Serve chicken with sauce poured over the top.
Nutritional Information: Each serving has 3.5 grams effective carbohydrate plus 1.5 grams fiber, 28 grams protein, and 250 calories.