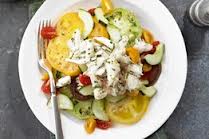 Total Time: 20 minutes
Serves: 4
Ingredients
6 heirloom tomatoes (ideally, a mix that is varied in size and color)
1 small shallot, finely minced
3 tablespoons apple-cider vinegar
6 tablespoons olive oil
Flaky sea salt (such as Maldon) and freshly ground black pepper
2 small firm cucumbers, peeled like a zebra, halved and seeded
12 ounces jumbo lump crab meat
4 large basil leaves, minced
4 large mint leaves, minced
1 tablespoon chives, snipped fine
20 golden and red cherry tomatoes, halved or cut into quarters, depending on size
What To Do
1. Trim tops and bottoms from heirloom tomatoes. Slice tomatoes crosswise into even, ¼- to ½-inch slices.
2. In a medium mixing bowl, cover shallot with vinegar and let macerate at least 10 minutes. Whisk in oil. Season vinaigrette with salt and pepper, to taste.
3. Meanwhile, slice cucumbers into very thin half moons. Sprinkle with salt and place on a paper-towel-lined plate. Set in refrigerator. After 10 minutes, remove from refrigerator and pat dry.
4. While cucumbers crisp, place crab meat in a mixing bowl and gently toss with herbs and 3 tablespoons vinaigrette. Season with salt and pepper, to taste.
5. Sprinkle heirloom tomatoes with salt and pepper. On four plates, arrange tomato slices so they overlap in a single layer. Scatter cucumber slices and cherry tomato halves over each serving. Spoon vinaigrette, about 2 tablespoons per person, over salads.
6. Distribute crab meat among plates and arrange it into a mound in the center of each salad. Drizzle with extra vinaigrette, if desired, and serve.