Makes enough to fill a large soup pot or crockpot. Mom's timeless recipe will put a smile on your face and warm you up from the inside out!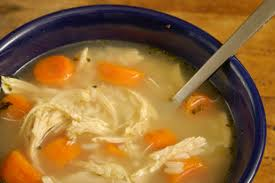 Ingredients:
1 whole chicken—organic, free range or kosher chicken
3 to 4 quarts of cold, filtered water
1 Tablespoon raw apple cider vinegar
4 medium-sized organic onions, coarsely chopped
8 organic carrots, peeled and coarsely chopped
6 organic celery stalks, coarsely chopped
2 to 4 organic zucchinis, coarsely chopped
1 bunch of organic parsley
4 to 6 Tablespoons of extra virgin coconut oil
4 inches of grated organic ginger
5 organic garlic cloves
2 to 4 Tablespoons Celtic sea salt
Directions:
Place chicken or chicken pieces in a large stainless steel pot with the water, vinegar and all vegetables except parsley. Bring to a boil and remove film that rises to the top. Cover and cook for 12 to 24 hours. The longer you cook the stock, the richer and more flavorful the stock will be. About five minutes before finishing the stock, add parsley. Remove from heat and take out the chicken. Let cool and remove chicken meat from the bones; then add meat back to the soup. Note: You can also use a crockpot to cook this.